Making Afterschool Cool Blog
A Celebration! Lights On Afterschool Day 2022
Posted by Kathleen Evans on 10/20/2022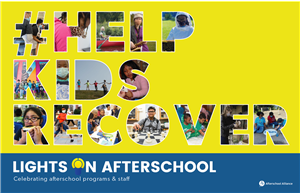 On Thursday, October 20, 2022, CASE for Kids will join thousands of afterschool and out-of-school time (OST) organizations across the country for the 23rd annual Lights On Afterschool celebration! This event highlights the importance of out-of-school time and the impact it has on young people, families, and communities across America. Afterschool programs keep kids safe, inspire them to learn and achieve and provide peace of mind for working parents. In the greater Houston area, programs will celebrate afterschool programs with events such as balloon releases, pep rallies, sporting events and more. Proclamations from the City of Houston and Harris County will also highlight the importance of OST in the community.
Organized by the Afterschool Alliance, Lights On Afterschool is America's only national rally for afterschool programs. This is the 23rd consecutive year the event is being held. The term "rally" is important because, along with celebrations, LOAS is also a time to advocate for the afterschool field to continue to grow.
Over the years, a growing body of research has demonstrated that well designed afterschool programs make a positive difference for students, families, and communities. All this data shows that afterschool opportunities can make a vital difference by supporting student success in school, at home, and in life. A 2020 survey by the Afterschool Alliance, showed that in every state, parents of all political persuasions voiced their support for more and better afterschool opportunities. Roughly 8 in 10 parents surveyed agreed that young people deserve access to quality afterschool and summer programs. Ninety percent of parents rate the quality of the program their child attends as excellent (51%) or very good (39%). Parents and the community understand the impact of OST.
Some 24.7 million U.S. children not in an afterschool program would be enrolled if a program were available to them. However, there are still not enough afterschool programs in the US to meet the need. According to a survey of 1,500 parents commissioned by the Afterschool Alliance and conducted by Edge Research in May and June of 2022. That is the highest number ever recorded. Unmet demand for afterschool programs is significantly higher among Latino and Black children (at 60% and 54% respectively) than among children overall (49%). Cost is the top barrier to enrolling students in a program, as cited by 57% of parents as a reason for not enrolling their child.
Lights On Afterschool 2022 serves as a one-day national spotlight on the benefits of afterschool programming. But let's keep the light shining until everyone realizes that more opportunities and programs will benefit our communities. Learn more about ways to educate others at the Afterschool Alliance, a nonprofit public awareness and advocacy organization working to ensure that all children and youth have access to quality afterschool programs. More information is available at www.afterschoolalliance.org.