Return to Headlines
Dec. 30 & 31 Plan Out Your New Year's Resolutions for 2022
Dec. 30 & 31 Plan Out Your New Year's Resolutions for 2022!
A New Year's Resolution is a great way to welcome in a fresh, new year with so much potential. Don't wait until January 1 to work your resolutions, start at least a few days before.
Activities to start your New Year's Resolution brainstorming:
Reflect on 2021: What did you accomplish? What did you miss? Is there something that you'd like to do? Consider friends and family too; what activity would you like to have done in 2021 that you could do in 2022?
Consider resolutions for things from all areas of life: stress reduction, planning, health, finance, friendship, exercise, environment, fun, vacations, hobbies, sports, family, spirituality, religion, kids, parents, aunts/uncles, cousins, neighbors, etc.
Firmly set one resolution first: Pick one thing off your list that you really want to accomplish. Will this accomplished item make you happy? If more than one is realistic, ensure to jot it down too.
Ensure to reach out: create a resolution team consisting of friends and family that will help you along the way to succeeding your resolution.
Consider using SMART Goals as a guideline for kids:
Specific: List exactly what you want to achieve (instead of "running faster" think "run a 5k in under 30 minutes").
Measurable: How will you keep track of your goal and determine whether you've been successful?
Achievable: Your goals don't have to be easy, but they need to be possible. Do you have the means and ability to make your dream a reality?
Relevant: Does this goal serve your greater focus and purpose in life?
Time-bound: Give yourself a deadline. Aim to reach milestones by certain dates.
Examples of resolutions for kids and templates: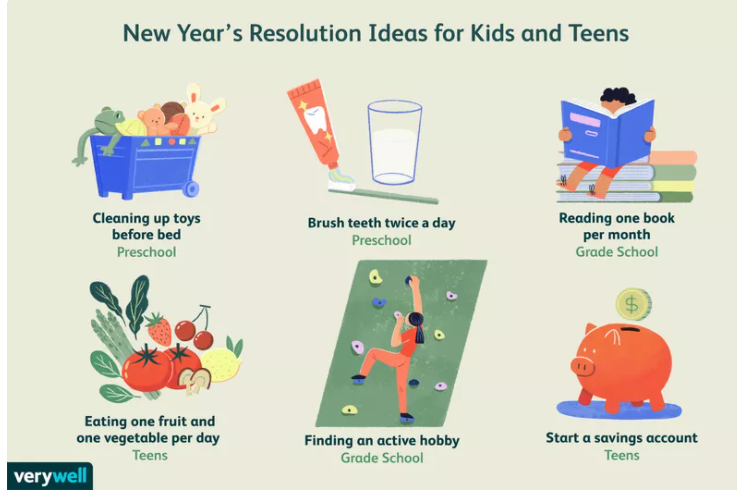 Find out more about New Year's Resolutions.